Heavy Rotation: 10 Songs Public Radio Can't Stop Playing
Loading the player ...
This month on Heavy Rotation — the series in which public-radio hosts and DJs share their favorite new songs — we have music from all over the map. Hip-hop, punk, EDM, folk, pop: It's all here. Meet this month's panel of pickers:


David Dye, host of NPR's World Cafe


Rita Houston, program director of WFUV in New York City


David Brown, host of Texas Music Matters for KUTX in Austin


Jessi Whitten, music director at Colorado Public Radio's OpenAir indie station


Alex Ruder, DJ at KEXP in Seattle


Kim Ruehl, a writer for FolkAlley.com


Andrea Swensson, blogger for TheCurrent.org


Travis Holcombe, a new daytime host for KCRW in Santa Monica, Calif.


Ali Shaheed Muhammad and Frannie Kelley of NPR Music Radio's hip-hop station Microphone Check


Otis Hart, coordinator of NPR Music Radio


Copyright 2018 NPR. To see more, visit http://www.npr.org/.

188336304
Har Mar Superstar, 'Lady, You Shot Me'
Lady, You Shot Me
Loading the player ...
Har Mar Superstar may be known for his bawdy, bare-it-all live shows, but longtime fans know that there are more layers to the artist known offstage as Sean Tillmann than what he leaves piled at his feet each night. Tillmann is a complex and skillful songwriter, and in the lead single from his new Bye Bye 17, "Lady, You Shot Me," he sets the shtick aside and sings from the heart, merging the romanticism of Motown with the grime of a New York subway car. This is catchy, punk-influenced soul music — and easily Har Mar's finest work yet. —Andrea Swensson, TheCurrent.org
188336330
Lorde, 'Royals'
Royals
Loading the player ...
We haven't yet heard a lot from Lorde, but we love her shimmery pop tune "Royals" and its spunky-underdog message. Lorde is the stage name of Ella Yelich-O'Connor, a 16-year-old from Auckland, New Zealand. "Royals" has already topped the charts in both New Zealand and Australia, heralding a worldwide pop star in the making. The song's melody, Lorde's rhythmic vocal style and the heartfelt lyrics come together to form a polished little gem of a song. Her haves/have-nots message about not getting caught up in the trappings of money and status sounds like she's writing about her life. "Royals" is part of a solid five-song EP called The Love Club, and Lorde is working on her full-length debut for release later this year. —Rita Houston, program director, WFUV
This download is no longer available.
188336340
Potty Mouth, 'The Spins'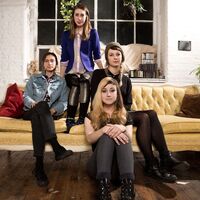 The Spins
Loading the player ...
Some of the best rock music of the moment is being performed in living rooms. There's a thriving DIY punk scene with hotspots all over the country that operates independent of professionally booked music venues or bars. One of the best-loved new artists of 2013, Waxahatchee, got her start in the scene, which has already spawned many more great songs. One of them is "The Spins" by Northampton, Mass., punk band Potty Mouth. Abby Weems, Ally Einbinder, Phoebe Harris and Victoria Mandanas channel early Dinosaur Jr. (incidentally, one of their neighbors) and Black Tambourine on this coarse but catchy single, the first taste of a debut full-length, Hell Bent, that's due out in September. I can't get Harris' opening guitar hook or Weems' all-too-true chorus ("It's hard to say no / It's hard to say no") out of my head. —Otis Hart, NPR Music
188335594
!!!, 'One Girl/One Boy'
One Girl/One Boy
Loading the player ...
Summer's here, and here's your proof: "One Girl/One Boy" bounces with the excitement and abandon of an all-night party on the last day of school. Working with producer Jim Eno (drummer for Spoon), the dance-punk and party-funk innovators in !!! — commonly pronounced "chik-chik-chik" — have crafted an infectious nod to the days when Nile Rodgers' Chic dominated dance floors. What puts it over the top, though, is the hook sung by Sonia Moore, the "Hey, Hey" girl from MC Hammer's "2 Legit 2 Quit." A great early-summer song. —David Brown, KUTX.org
188336078
Archie Pelago, 'Avocado Roller'
Avocado Roller
Loading the player ...
New York electronic production trio Archie Pelago has released a handful of EPs in the last couple years, while quickly emerging as one of the most exciting acts in the growing field of forward-thinking bass music. Crafting a sound that's both left-field and welcoming, the group fuses complex, kinetic rhythms with a strong jazz and classical streak, as evidenced by the group's individual talents on saxophone, cello and trumpet. "Avocado Roller" kicks off Archie Pelago's latest EP, Sly Gazabo, and provides a prime example of what makes the trio special: scintillating beats, nimble instrumentation, warm bass tones, gorgeous wordless vocal samples and a striking, soulful saxophone solo. —Alex Ruder, KEXP
This download is no longer available.
188336322
Bibio, 'À tout à l'heure'
Tout a L'heure
Loading the player ...
I try to learn little about an album, artist or song before I listen to it — much in the same way I avoid trailers for movies I may actually want to see — because I want my first listen untainted by expectation. However, already familiar with Bibio's previous work, I was unable to greet his new album, Silver Wilkinson, without conjecture. I'd always expected the new record to be good, but by the time I reached the middle at "À tout à l'heure," I had to ditch all preconceived notions. A song built on a flowing foundation of good vibes, it shimmers with folk instrumentation that creates a warm, welcoming atmosphere. It's no wonder I would later find out that part of this song was written in a sunny garden, with watering cans and garden shears used for instrumentation. —Jessi Whitten, music director, CPR's OpenAir
188336329
Joy Kills Sorrow, 'Was It You'
Was it You
Loading the player ...
Two full-length albums and one EP into a brief but fruitful career, Boston's Joy Kills Sorrow lives to defy the confines of string-band tradition. Born of Boston's various creative institutions and conservatories, the quintet saw fit to lay down an EP called Wide Awake to welcome its new bass player Zoe Guigueno, but it's vocalist Emma Beaton who drives this remarkable opening track. With the banjo rolling hard and fast against the steady chunk of a mandolin pulse, you forget there are hardly any instruments and only a couple voices here. The song becomes its own atmosphere of rhythm and melody, its longing matched only by the feeling of running away from it all. —Kim Ruehl, FolkAlley.com
188336486
Pretty Lights, 'Around The Block (feat. Talib Kweli)'
Around the Block
Loading the player ...
After a two-year absence, Pretty Lights returns with the help of Brooklyn rap veteran Talib Kweli in "Around the Block." The densely layered single combines elements of hip-hop, soul, dubstep, New Orleans jazz and 1990s big beat into a simmering, party-ready bouillabaisse. Known for relying heavily upon sampled music on his previous releases, Pretty Lights eschews outside samples here, choosing instead to piece the record together from sessions he's recorded over the last year. The new album, A Color Map of the Sun, will be self-released by Pretty Lights and available as a free download beginning July 2. —Travis Holcombe, KCRW
188336442
Quasimoto, 'Brothers Can't See Me'
Brothers Can't See Me
Loading the player ...
Scratches of Diamond D's classic "Best Kept Secret" at the start of "Brothers Can't See Me" let you know that the song by rapper/producer Madlib and his alter ego, Quasimoto, hails from the "boom-bap" sector of hip-hop — a district alien to current rap. The tightly truncated snare drum and bouncy kick-drum pattern sound like 1994-'96, but "Brothers Can't See Me" feels fresher and maybe even more powerful now than it would have back in the day. The song is fuzzy and it slaps. Madlib's style is matter-of-fact as he takes the mic to set a couple things straight. "I'm Madlib the bad kid. I'm the one that'll hit you with the total bliss," he says. "I'm that dirty pop and hiss. My s--- sound better than yours, I got the force." And if you didn't get the gist, then Diamond D will spell it out for you again. —Ali Shaheed Muhammad and Frannie Kelley, NPR Music's Microphone Check
Download "Brothers Can't See Me" (Right-Click and 'Save As')
188336556
The Shouting Matches, 'Gallup, NM'
Gallup, NM
Loading the player ...
The Shouting Matches' album Grownass Man is a quickly jammed-out project that Justin Vernon of Bon Iver made with his Wisconsin pals Phil Cook (of Megafaun) and Brian Moen (of Peter Wolf Crier). Vernon sings these unassuming blues-rock songs in his lower register, with no one taking themselves too seriously. I can imagine Vernon watching that SNL sketch where Maya Rudolph says, "Oh, no, Bon Iver put himself to sleep," and saying, "Time to have some fun." "Gallup, NM," a highlight of Grownass Man, is a travelogue that sounds like it came out of Neil Young's Tonight's the Night sessions. The words speak of "lies walking with the truth," followed by a dusty, Wilco-esque guitar solo that sounds just right. —David Dye, host of WXPN's World Cafe