Heavy Rotation: 10 Songs Public Radio Can't Stop Playing
Loading the player ...
You know the drill by now. Each month, NPR Music polls public-radio personalities and asks them to share their favorite new song with the world. You get to download the track. Here's this month's panel:
Copyright 2013 NPR. To see more, visit http://www.npr.org/.
Terrace Martin, 'You're The One' (feat. Ty Dolla $ign and Tone Trezure)
Terrace Martin is a rapper, producer, singer and sax man. He's the one responsible for the saxophone remix of Kendrick Lamar's "Poetic Justice" — the version Lamar performed on Letterman — and a couple other songs on Lamar's good kid, M.A.A.D. city, which still has critics hyperventilating. His smooth edges and dry layers make his own project, 3 Chord Fold, relaxing. His chooses his features with foresight. Ty Dolla $ign, who takes a turn in "You're the One," is usually gleefully crude, but gets serious here. The song develops quietly, never boils over and sneaks up on you. --Frannie Kelley, NPR Music
Carolyn Malachi, 'Fall Winter Spring Summer'
Here's new music from an hors catégorie vocalist who, like NPR headquarters, is based in Washington, D.C. Carolyn Malachi invites comparisons to other brightly singing R&B-ish Afro-futurists — namely, Janelle Monae — but with a slightly more organic, grounded quality. Her new album, GOLD, is littered with skilled instrumentalists performing in real time, which you might call a jazz influence. In this case, you'd be right: Malachi is the great-granddaughter of jazz pianist John Malachi, and in the spoken-word entr'acte of "Fall Winter Spring Summer," she references him alongside Bud Powell, Thelonious Monk, Sarah Vaughan and Betty Carter. (Live, she tends to "stay with a jazz band," as she speak-sings.) Though it sounds like she's breaking up with someone, she says the song is addressed to her fears. Considering that she's forged a path as an independent black artist across category, including a 2011 Grammy nomination, it doesn't really sound like she had many to begin with. --Patrick Jarenwattananon, NPR Music
Download "Fall Winter Spring Summer" (Right-Click and Save Link As)
Volcano Choir, 'Byegone'
Bon Iver fans will likely pick up the new Volcano Choir record (Repave, out Sept. 3) to get their Justin Vernon fix, but the band has become much more than a side project for the Grammy-winning frontman and his buddies from the Wisconsin band Collections of Colonies of Bees. "Byegone" is easily the band's most accessible tune to date, with Vernon singing in a hearty tenor about "drinking all the ways to down." But there's also an experimental undertone — a sense that time is being stretched and manipulated, the occasional opaque lyric — that hints at more adventurous things to come on the band's second album. --Andrea Swensson, The Current
Daniel Wohl, 'Corpus' (feat. Julia Holter)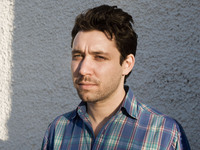 "Corpus" — the final track from Paris-born, New York City-based composer-performer Daniel Wohl's debut album, Corps Exquis — unfurls with a sense of slow-motion, feline inevitability. A haze of violin, cello, bass clarinet, piano, vibraphone and muted electronics enshroud ethereal, nearly imperceptible vocals from Julia Holter. Throughout the entirety of what was originally conceived as an evening-length work of multimedia performance art, Wohl and his TRANSIT new-music ensemble attain a remarkable assortment of electronic and organic sounds blended to the point of inseparability — and yet this concluding track stands apart. "Corpus" is both a glimpse of something elusive and a confession of something lost; its compact melodic gestures unfold with the lyricism of calligraphy, while its diaphanous harmonies somehow transport, unsettle and delight all at once. --Alex Ambrose, Q2 Music
Houndmouth, 'Penitentiary'
I missed the Louisville band Houndmouth's debut album, From the Hills Below the City, when it came out earlier this year. Oh, I knew it was there and my colleagues seemed to like it; I just never listened to it. I couldn't handle another alt-country band; I was Mumford-ed out. That changed when Houndmouth came in for its World Cafe session, where I discovered that this album is filled with superior writing about cocaine, casinos and trains. The dirt behind most of the writing — combined with the "cleanness" of the stacked vocals and arrangements — echoes the best of The Band and makes for a near-perfect album. "Penitentiary" is one of the first songs Houndmouth wrote, but more importantly, it's one of the best. --David Dye, World Cafe
Misun, 'Coffee'
Every summer, I have a new romance to carry me through to September and usually beyond. This time around, I've fallen for Misun. The band's members met while working at a restaurant in Washington, D.C., and their sound couldn't be less Dischord/Fugazi/Bad Brains. It's more rippling guitars and soft, smart beats with understated yet sharp production. Vocalist Misun Wojcik has a voice that can compete with Alice Russell and Amy Winehouse for sheer power and sexiness. The sound is timeless, the band is a bit mysterious and, without exception, I love every one of its songs. --Anne Litt, KCRW
Not In The Face, 'Brass Tacks'
A few years ago, a pair of tall, self-effacing Texans, one with serious muttonchops (guitarist Jonathan Terrell) and the other with a wicked sense of humor (drummer Wes Cargal), emerged on the Austin music scene with a sound that seemed to come from the intersection of Akron and Asbury Park. Equal parts melody and ferocity, Not in the Face was, then, just for giggles: a two-man, tongue-in-cheek rock 'n' roll bulldozer, with a sound at least twice its size and an air of success swirling around it thanks to positive press and a rapidly growing following. Recently, out of the blue, veteran producers Bob Ezrin (Alice Cooper, Pink Floyd, Kiss) and GGGarth Richardson (Rage Against The Machine, The Jesus Lizard) invited the pair plus two new band members to Vancouver to record an EP. Now that tracks have started to leak out, including the rowdy foot-stomper "Brass Tacks" (watch the video here), the group seems set to explode. Cover your face. --David Brown, KUTX
Download "Brass Tacks" (Right-Click or Command-Click and Save Link As)
Orquesta El Macabeo, 'Lluvia Con Sol'
Finding a good salsa tune is no easy task these days. Afro-Caribbean music experienced such a transcendent heyday during the 1950s, '60s and '70s that most contemporary efforts pale in comparison to the genre's golden days. There's nothing wrong with unearthing forgotten gems from the past, but discovering a new band making great music here and now is exhilarating. This is exactly why I've been following Orquesta El Macabeo since it emerged from Puerto Rico in 2010. For an obsessive fan such as myself, El Macabeo is a gift from the gods of Afro-Caribbean swing: On one hand, the band follows the tradition of hardcore Puerto Rican salsa pioneered by the likes of Roberto Roena and La Sonora Ponceña. At the same time, it sounds fresh and youthful, adding a subtle pop-rock vibe to the tropical beat. El Macabeo's new single, "Lluvia Con Sol," is my favorite song of the year so far. I love how the tune opens up at the 1:35 mark, releasing a sweet chorus that's part Latin pop hook and part Afro-Caribbean bliss. You can dance to "Lluvia Con Sol" at a traditional salsa club, but also revel in its melodic perfection. From time to time, a new recording reminds me why I spend my days writing about Latin music; this is one of them. --Ernesto Lechner, The Latin Alternative
Pyres, 'Deserter'
I like my singing unclean and my metal black (like my coffee), but sometimes there's a band that attracts my attention because it excels at using the power of the riff in the service of a song. I think that's what appeals to me most about Toronto's Pyres. While there's a monstrous weight and heft of feeling to the band's heavy metal without going emo, it's also capable of packing polished guitar work into satisfying yet not-wanky portions that keep me coming back. (For the obligatory name-dropping, I'll do the "if Thin Lizzy met early Mastodon" or "think heavier Baroness, still in the Red/Blue era.") When a band makes me headbang at my day job and then veers into a sludgy stoner, almost-psych breakdown, all with the gruff vocals I prefer and still at a menacing clip, I'm sold. --Caryn Havlik, WNYC's New Sounds
Download "Deserter" (Right-Click and Save Link As)
The Octopus Project, 'Death Graduates'
From the opening salvo of drums and staccato voices, "Death Graduates" grabs me by the lapel as the Octopus Project launches into a dramatic tale of woe (in this case, more like "woah"). This track is a high-speed pressure cooker, and when the lid blows, gentle xylophone and somber/celebratory harmonies rain down like confetti-covered hail. The Austin band has been making this style of complex pop since 2002, and its new album, Fever Forms, is full of songs that sound like the happiest prog-rock in existence. If you like The Polyphonic Spree, The Apples in Stereo or Arcade Fire, give The Octopus Project a go. --Nick Brunner, Sacramento's Capitol Public Radio