Heavy Rotation: The 10 Songs Public Radio Can't Stop Playing
Loading the player ...
Every month, NPR Music hits up 10 hosts, music directors and writers from public radio stations across the country for the new songs that just won't let them go. It's always exciting to watch the picks pour in — both to hear the range of music represented and to learn why those songs have been on everyone's minds.
At the audio link above, hear Jesse Menendez of Vocalo Radio, Jerad Walker of opbmusic and Jessi Whitten of Colorado Public Radio's OpenAir share their picks for this month. Read on for the full list, which includes music from Canadian pop singer Allie X,
Jeff Tweedy
of
Wilco
, Mexican rock stars
Café Tacvba
and more.
Copyright 2019 NPR. To see more, visit https://www.npr.org.
534126826
Rich Jones, 'No Clue' (feat. Mykele Deville)
No Clue feat. Mykele Deville
Loading the player ...
Hear "No Clue" via SoundCloud.
Hip-hop artist Rich Jones, from Chicago's North Side, has been honing his craft since 2011. In the last several years, his arsenal has expanded to include a melodic vocal delivery that veers away from traditional rapping and more toward crooning. It's that style that Jones deploys in his new song "No Clue," a wavy tribute to how love and great relationships sometimes sneak up on you when you least expect them. The song features a guest verse from up-and-coming local MC Mykele Deville and production from Montana Macks. Sonically, it's driven by an airy guitar sample and subtle horns on the hook that make it a breezy summer joint cool enough to combat Chicago's heat-filled days.
—Jesse Menendez, Vocalo Radio
534098602
Alvvays, 'In Undertow'
In Undertow
Loading the player ...
The Canadian band Alvvays made a splash in 2014 with its self-titled debut, a record filled to the brim with jangle-rock jams and huge choruses. Its new album, Antisocialites, with lead single "In Undertow," neatly picks up where the group left off. The track is a head-bopping breakup song propelled forward by a dreamy wall of sound and steered deftly by the understated vocals of lead singer Molly Rankin. "What's next for you and me?" she asks rhetorically at the beginning of the song, before describing a relationship that is slowly bleeding out after a nasty fight. Despite the heavy subject matter, Rankin and her bandmates never abandon their pop sensibilities. The result is a rare but beautiful rock and roll beast: the sad, fist-pumping anthem.
—Jerad Walker, opbmusic
534100866
Burning Peacocks, 'Ondulation'
Ondulation
Loading the player ...
As someone who is just beginning to question the "busy is best" mantra that seemingly drives the U.S., I find the new single from the French duo Burning Peacocks to be an alluring time-out. "Ondulation" creates a glamorous sort of calm with serene vocals, layered accompaniment and what sounds like a steel drum gently leaning in around the chorus. This song is what all our summers should aspire to be: mellow, bright, simple. Since it's in French, a language I do not understand despite attempts to learn, I can imagine "Ondulation" is about anything — but as I perceive it, this song is all about the playful and meditative nature of an inflatable flamingo bobbing on the slight waves of an 80-degree pool.
—Jessi Whitten, Colorado Public Radio's OpenAir
534125820
Jeff Tweedy, 'I Am Trying To Break Your Heart'
I'm Trying to Break Your Heart
Loading the player ...
One of the greatest album openers of all time gets stripped back to just voice and guitar, proving once again that a good song can shine in any arrangement. "I Am Trying To Break Your Heart" opened Wilco's dynamic and multi-layered Yankee Hotel Foxtrot in 2001. This acoustic version brings the tune's ache of regret to the forefront — "what was I thinking when I said hello?" — and the warmth of Jeff Tweedy's acoustic guitar says the rest. This song questions the past at a time when Tweedy and Wilco have never been more forward-looking. And there's more of this ahead: Tweedy's new album, Together At Last, marks the first release in a proposed retrospective series called Loft Acoustic Sessions, a natural move in the band's daring and varied career. In the meantime, Wilco's in the midst of its semi-regular Solid Sound Festival this weekend; WFUV will be broadcasting performances from Kurt Vile and The Violators and Wilco starting at 7 p.m. ET Saturday night.
—Rita Houston, WFUV
534099338
Allie X, 'Need You' (feat. Valley Girl)
Need You feat. Valley Girl
Loading the player ...
The production on this song is so tight that it would probably still sound magnetic if you picked it up on a ham radio MacGyvered out of a wire coat hanger and a hairpin. But listen closely on a solid pair of headphones and you'll notice the subtly circular stereo mix on the opening bars. What sound like bongo synths and percussive sandpaper swirl around with dizzying precision, so that by the time the beat drops you feel like you've spun around eight times and landed squarely in Allie X's universe — one defined by mystery, depth and attention to detail. It's just so dimensional — like putting a closed accordion into a small space, pulling it open and forcing the expansion of all surrounding sound. And in a song that soars with superhuman production, the lyrics are deeply human: "I'll just keep telling myself over and over and over, 'til I don't need you." Ever been there before? Yeah, me neither.
—Talia Schlanger, World Cafe
534100448
Molly Tuttle, 'Good Enough'
Good Enough
Loading the player ...
Molly Tuttle says this song "came out of a feeling of dissatisfaction that I struggle with from time to time. I think that the tendency to feel like something's missing ... is pretty prevalent in this day and age." Whatever is missing from Tuttle's life is definitely not talent: "Good Enough" showcases her technically precise and yet aggressive guitar style, which works as a beautiful foil to her crystal-clear voice. Helped along by John Mailander (fiddle), Todd Phillips (bass) and Wesley Corbett (banjo), the perpetual-motion feel of "Good Enough" perfectly echoes the constant struggle to be and do more — a struggle that, if you let it, can blind you to all the good in your life. Luckily, Tuttle knows how to keep that struggle in check: "I'm finally learning how to let some doors stay shut," she sings. "It gets so hard but I'm not giving up ... There comes a time to say that's good enough."
—Elena See, Folk Alley
534176065
Billy Raffoul, 'Driver'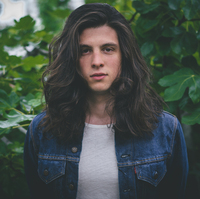 Driver
Loading the player ...
After working as a gigging artist and voice-for-hire for years, the Canadian-born musician Billy Raffoul has stepped into the spotlight with a strong debut single that foreshadows a promising career as a songwriter and singer. I've always been a sucker for big dynamics in songs, and Raffoul's use of the technique is the perfect complement for a voice that has as much power behind it as emotional depth. "Driver" is inspired by a time his family picked up a hitchhiker, a literal life experience that could double as a metaphor for Raffoul's own feeling of trying to find his place in the world as a young 20-something. "Sometimes I wish I was the driver / But I'm always the hitchhiker" is a line that's relatable for a lot of listeners. Raffoul's ability to make that connection with his first single gives us a lot to look forward to.
—Amy Miller, KXT
534100684
Café Tacvba, 'El Mundo En Que Nací'
El Mundo en Que Naci
Loading the player ...
"El Mundo En Que Nací" is a lullaby from a father to a child, but it's also a love song. It's about a father holding his child in his arms for the first time — a singular, enduring moment in which he experiences a love that is uniquely real and a responsibility that is uniquely awesome. It's about entering a brave new world and discovering a reason to continue. From the first few exquisite moments of the song to the to the strings and harpsichord accents that bring it to a close, the chord progression is both familiar and powerful, the song's story and music effortlessly united. Clearly inspired by Pachelbel's Canon in D, the song has a beauty and simplicity that create an easy peace. This is the most stunning piece of music I've heard in 2017.
—Anne Litt, KCRW
534127691
John Moreland, 'Ain't We Gold'
Ain't We Gold
Loading the player ...
What is it in the water in Texas and Oklahoma that imparts such surefootedness to the paths of the young songwriters who drink from it? This new and notable generation from Red Dirt country includes John Fullbright, Parker Millsap and John Moreland. Moreland, in particular, is an enigma — a sensitive and eloquent poet contained within an imposing exterior. His new album Big Bad Luv is the follow-up to 2013's High On Tulsa Heat, which earned him an Americana Music Association emerging artist nomination. The new record is more of a rocker, and "Ain't We Gold" has a ghostly vibe that makes it sound as if it's banging off the ionosphere from a roadhouse in a distant time and place.
—Jessie Scott, WMOT Roots Radio
Jaidene Veda, 'Believe' (feat. Kafele Bandele & Master Mello)
Deep, jazzy house is one of the more eclectic and evolving subsets of electronica, and Jaidene Veda continues to have the genre's pulse. After receiving critical acclaim for her 2015 album Wanderlust, Veda has returned with Heart Of Gold, a release that sees her building on that momentum while expanding her sound and voice. This is evident in "Believe," which channels stylistic forebears like Vanessa Daou and Santessa with breathy vocals set atop expansive, atmospheric melodies. The track, which features cameo appearances from Kafele Bandele and Master Mello, is haunting, blissful and sultry — making for a refined listening experience whether you're dancing or just sitting back and nodding your head to the groove.
—Chris Campbell, WDET's The Progressive Underground